This post originally appeared on the Gartner Blog Network.
Today, I am proud to announce that I just published new research (available here) on how to manage public IaaS and PaaS cloud costs on AWS and Microsoft Azure. The research illustrates a multicloud governance framework that organizations can use to successfully plan, track and optimize cloud spending on an ongoing basis. The note also provides a comprehensive list of cloud providers' native tools that can be leveraged to implement each step of the framework.
In the last 12 months of client inquiries, I felt a remarkable enthusiasm for public cloud services. Every organization I talked to was at some stage of public cloud adoption. Almost nobody was asking me "if" they should adopt cloud services but only "how" and "how fast". However, these conversations also showed that only few organizations had realized the cost implications of public cloud.
In the data center, organizations were often over-architecting their deployments in order to maximize the return-on-investment of their hardware platforms. These platforms were refreshed every three-to-five years and sized to serve the maximum expected workload demand over that time frame. The cloud reverses this paradigm and demands that organizations size their deployment much more precisely or they'll quickly run into overspending.
Futhermore, cloud providers price lists, pricing models, discounts and billing mechanisms can be complex to manage even for mature cloud users. Understanding the most cost-effective option to run certain workloads is a management challenge that organizations are often unprepared to address.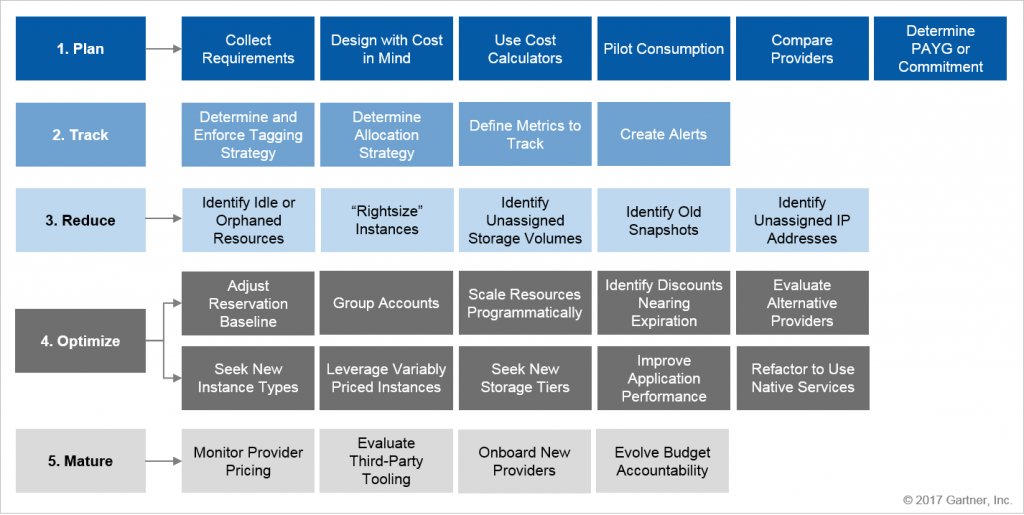 Using this framework will help you take control of your public cloud costs. It will make your organization achieve operational excellence in cost management and realize many of the promised cost benefits of public cloud.
The Gartner's framework for cost management comprises five main steps:
Plan: Create a forecast to set spending expectations.
Track: Observe your actual cloud spending and compare it with your budget to detect anomalies before they become a surprise.
Reduce: Quickly eliminate resources that waste cloud spending.
Optimize: Leverage the provider's discount models and optimize your workload for cost.
Mature: Improve and expand your cost management processes on a continual basis.
If you recognize yourself in the above challenges, this new research note is an absolute recommended read. For a comprehensive description of the framework and the correspondent mapping of AWS and Microsoft Azure cost management tools, see "How To Manage Public Cloud Costs on AWS and Microsoft Azure".